HI!
Today I feel like sharing a recipe with you!
I made this quesadilla a while ago and I LOVED it!
With out further ado . . .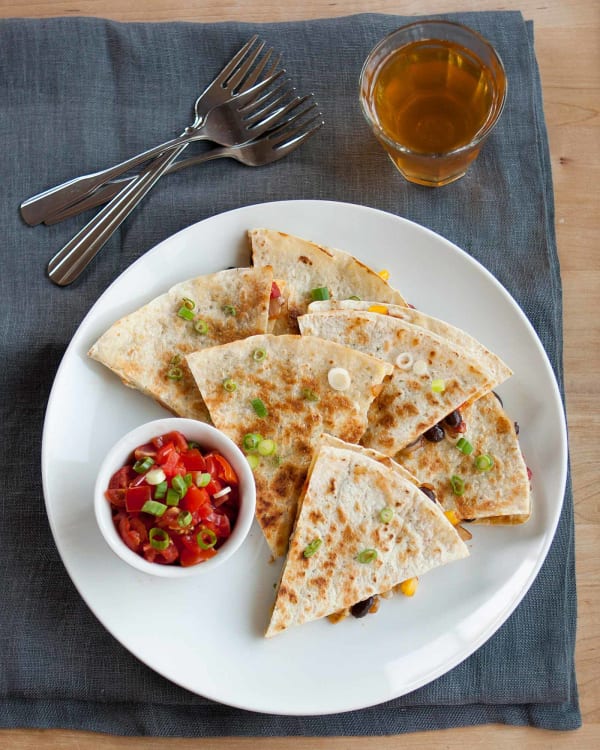 How To Make the Best Cheesy Quesadillas
2 to 3 cups 

filling: leftover cooked vegetables, shredded meat, crumbled tofu, cooked beans, fresh or frozen corn, cooked rice or grains, or any other leftovers

2 teaspoons 

butter or vegetable oil, divided

4 

large (9-inch to 10-inch) flour tortillas

2 cups 

shredded cheese: cheddar, monterey jack, colby, fontina, or any favorite melting cheese
Equipment

12-inch skillet or griddle

Spatula

Paring knife
Instructions
Prepare the filling: Pick a few of the suggested filling ingredients above, enough to make 2 to 3 cups of total filling. If combining leftovers, warm them briefly in the microwave or in a skillet over medium heat. If using raw ingredients, cook before making quesadillas. Transfer the filling to a bowl and cover to keep warm.

Melt 1/2 teaspoon butter or oil in the skillet: Ironically, the key to a crispy quesadilla is less fat in the pan, not more. Too much fat will make your quesadilla soggy instead of crispy. Use just enough to coat the bottom of your skillet — about 1/2 teaspoon of butter or oil. Warm it in the skillet over medium to medium-high heat.

Add the tortilla and top with cheese: Lay one tortilla in the skillet and sprinkle all over with 1/2 cup of cheese.

Add the filling: Spread roughly 1/2 cup of filling in a single layer over just half the tortilla. Don't use too much or the filling will fall out as you try to eat it. Spreading the filling over half makes the quesadilla easier to fold, and adding it as the cheese melts gives the filling time to warm if it has cooled.

Watch for the cheese to melt: Once the cheese starts to melt, begin lifting a corner of the tortilla and checking the underside. When the cheese has completely melted and you see golden-brown spots on the underside of the tortilla, the quesadilla is ready.

Fold the quesadilla in half: Use the spatula to fold the quesadilla in half, sandwiching the filling.

Transfer to a cutting board and slice into wedges: Slide the quesadilla to a cutting board, and if serving immediately, slice into wedges. If preparing several quesadillas for a crowd, slide the un-cut quesadillas onto a baking sheet and keep warm in a 200°F oven and then slice into wedges just before serving.

Wipe the pan clean and repeat: Wipe the pan clean, melt another dab of butter, and continue cooking quesadillas as described above.
Recipe Notes
Favorite Filling Combinations:
→ Diced onion, diced red peppers, black beans, corn, and cheddar
→ Sautéed sliced mushrooms, shredded chicken breast, wilted spinach, and fontina
→ Pulled pork, caramelized onions, and monterey jack cheese
→ Sautéed shrimp, red onion, avocado, and queso fresco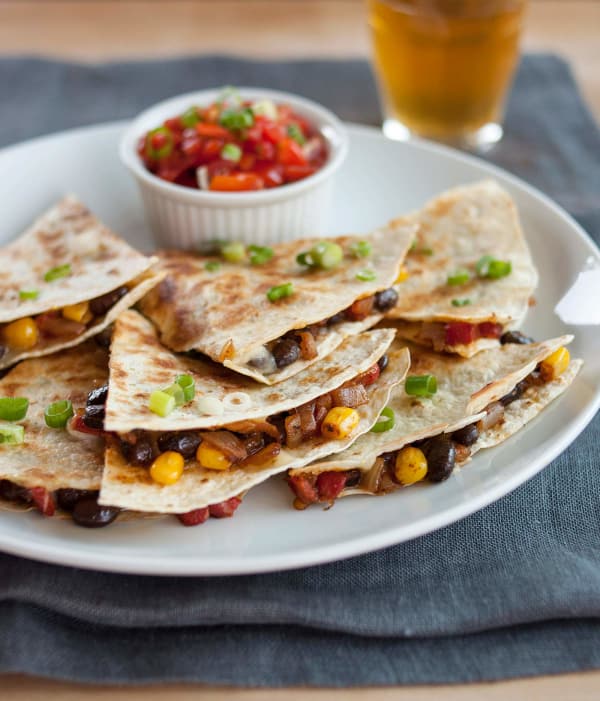 Recipe: https://www.thekitchn.com/how-to-make-crispy-cheesy-quesadillas-on-the-stove-top-cooking-lessons-from-the-kitchn-188645
This recipe was tons of fun and super easy to make. I hope you try and enjoy it!
Thanks for reading!!
Sincerely,