HELLO EVERYONE!!!!
I am finally ready to jump back into blogging! I have actually missed writing for you guys, even when it is a ton of work. 😉
Here's the thing people! We just finished the greatest, the longest, the craziest road trip I have ever been on. And guess how we did this . . . in a ginormous RV!
Before I get into the juicy details of our adventure, I would like to take a minute to express my gratitude to my parents. (Brownie points, wink, wink)
Dear Mom and Dad,

Thanks so much for letting me (like you had a choice) come along on your amazing, once in a lifetime adventure in the RV. Mom, thanks for having a brother so we could use his R.V instead of driving cross-country in a car. Thank you for always making sure we were feed and clothed. Dad, thanks for being an awesome friend to my uncle so that we could borrow the RV for so long. To both of you, thanks for putting up with me and my horrible attitude on my bad days. Also, thank you for understanding that I need my own space. (aka my own bed)

I love you!

Your pretty amazing daughter (cough cough)

Ginger Snap
Now. . . where was I? Oh yeah. . .
"Diary of a Teenaged Traveler: Coast to Coast"
Welcome to my travel entries from our RV road trip from the West Coast to the East Coast! I hope that you will enjoy reading about our adventures, just as much as I did experiencing them! Have fun!!!!
Utah
When we first got the RV, it needed a bit of fixing up before we could sleep in it. We all worked hard to clean, organize, and prep it for our trip. Even though it was work, it was actually quite fun.

While in Utah, I hung out with my 2nd cousins, Abby and Chloe. My little sister and I went with the girls to thrift stores to shop for some much needed new clothing. I am super happy with the cute outfits I got!
After our week in Utah, it was finally time to start our RV trip. Before we left, we visited our 2nd cousins, the Owen family! Our "Aunt Allie" was super nice and made us delicious, homemade Cafe Rio chicken salad for dinner! After we ate, we played a cool frisbee game. It was loads of fun!
Nevada
Did you know that Lake Tahoe is two million years old? Tahoe is the largest lake in the Sierra Nevada Mountains and the 2nd deepest lake in the U.S.A. It's deepest point is 1,645 ft deep. Cool, right?
At Lake Tahoe, I enjoyed looking into the crystal clear water and playing in the sand. One thing I learned pretty quickly was that the lake water was FREEZING! The burning hot sand made the cold water tolerable and almost refreshing. I'm so glad that the sand was hot! I think I like freshwater better than saltwater.
The family that we went to the lake with brought some awesome inflatable paddleboards. I had already learned how to paddleboard in Costa Rica, so it was easy to do it again. What made padding even better was the fact that I got to do it with my new best friend, Little Princess.

Little Princess is the cutest little girl in the whole world. All-day, we played games, put on make-up (aka sunscreen), and laughed together. Man, I miss that girl!
Little Princess's amazing mother is the best photographer I know! She is so good, I want her to take my wedding pictures someday. Since her mom knows that I want to be a photographer, she taught me her tips for taking professional pictures, while taking our pictures.
*Here's a quick tip to anyone who visits Lake Tahoe, always brush the sand off dry. It comes off easier that way.
California
Trees, trees and more trees are what you see in forests, right? Well, in the Redwoods National Forest you see trees, but not just any kind of trees. You see 2,000-year-old trees that can grow as wide as a car and up to 300 feet tall or more. Redwood tree bark can grow up to 12 inches thick. The trees also rely on fog for moisture in the summertime.
Because of the huge trees at our campground, we got to see millions of stars at midnight. Yep, you read that right. My parents were super smart and woke us up from our beauty rest, so that we could see the stars. We even got to see shooting stars! Amazing right? It was definitely worth some lost sleep.
While you are driving to the drive-thru tree, look out the window. Why? Because you might be lucky enough to see some sun-ripe blackberries growing like weeds! If you stop, you will find that THEY ARE DELICIOUS! Yum!
Oregon
While we were in Oregon, we visited a city called Tillamook. Have you ever had Tillamook Ice Cream or Tillamook cheese? Well, we actually visited the factory where it is made. We didn't get to go inside the factory, but we did get to eat my favorite flavor of ice cream (Udderly Chocolate) in the parking lot.
Since we didn't eat any of the cheeses, we decided to go to a place called "The Blue Heron." It had a little shop where we got some Brie cheese (yuck), some yummy marionberry syrup, and little sticks of honey. Mom had us all try the Brie cheese with some fig jam on a cracker. Everyone, except me, liked it. Oh well. . . I guess I just love my gouda cheese!
So, y'all know how much I love my second cousins, right? Guess what? We met some more in Oregon. Our cousins invited us over to have some burgers, from one of their favorite restaurants, and we ate in their backyard. At first, there was an awkward silence at the kid's table. But after a while, we all started talking. Then came the fun card games and even some guitar/ukulele playing. Let's just say, we didn't want to leave and they didn't want us to leave. I'm glad that I have such great new friends who happen to be family!
If you ever have the chance to visit Oregon, stop at a foggy, cold beach and play in the sand. I know, weird. But . . . we did it and it was a lot of fun! We walked down to the water and felt the freezing saltwater. It was so weird to be at a beach in the cold, with fog all around us. We could barely see in front of us, but it was so fun!
Washington
This might sound a bit weird, but Washington was boring. Though it was fun to visit El Gringo's mission office, to drop off a birthday package for him. It was also fun to see that Joy boy's pants had super bad holes in them. Hahaha!
Have you ever eaten at Taco Time? It's pretty good. I should know because we ate some in Washington. We got way too many tater tots but that was perfectly ok with me. Also, the salsa was so good that we saved it, so I could eat it later, even if it did burn my mouth half the time. 😉
Idaho
We were only in Idaho for a couple of hours, but it was so nice to visit El Gringo's current mission area, Rathdrum. We drove around, taking pictures for a scavenger hunt. We visited Covenant Street (If you read his post you will know what I'm talking about) and we visited his church building. Later we found out that he was actually inside the church and had seen us take a picture and then drive off. Like a good missionary, he stayed inside. We did get to wave to his companion though. That was the closest I have been to my older brother in 21 months!
Montana
I just have to say, I LOVE MONTANA! One of the first things we did in Montana was to go to a sweet gift shop. It was gigantic and filled with cool nicknacks. I bought myself a Montana iron-on-patch. My mom bought us a Montana fluffy blanket and my little brother bought a cool cube thing. My dad splurged and got us a huckleberry shake! It was delicious!
One time, when we needed a break from the RV, we walked down to a beautiful river. It was lots of fun to pick up the dry rocks and put them in the water to see what color they would turn!
The next couple of days we spent in Montana, we visited Glacier National Park. In the park, we saw tons of waterfalls, rivers, and lakes. Of course, we had to stop and look at the beautiful nature. We truly got "lost in Montana".
Wyoming
Martin's Cove was such a cool place to visit. We ate a gourmet lunch in the parking lot, and then we took a long walk to a place called Devil's Gate. At the "gate", there was a small brook which we used to cool off our burning feet. It felt so nice. But the heat really helped me feel grateful for my ancestors. They walked in the extreme heat and the extreme cold to give their children a better life. It made me wonder if I would do the same for my children?
Nebraska
While on the way to our next rest spot, my dad decided it would be cool if we stopped at a place called "The Archway". Boy was he right! The Archway is a unique building built over a busy interstate. Inside you walk through the history of Fort Kearney. It truly was amazing. I really recommend that you go to it!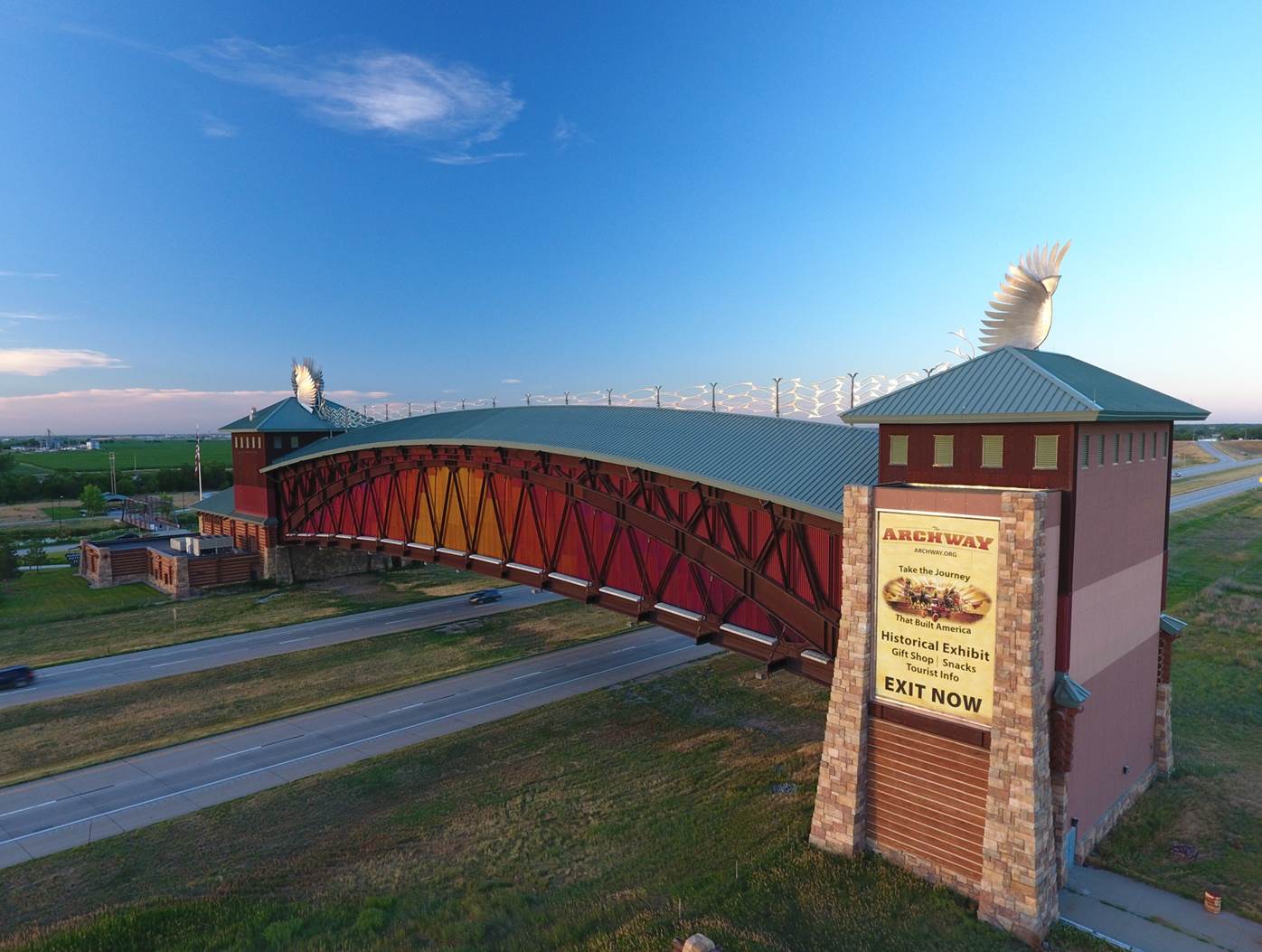 First, let me say that Omaha's Henry Doorly Zoo is HUGE!!! One of my favorite things I got to see there was a live cheetah. Yep, they have cheetahs! Another cool thing at the zoo were the different terrains. My favorite was probably the Arctic terrain. I loved watching the penguins roam around, swim, and have snow pile on their heads.
Iowa
Iowa is a very strange state. It is covered in fresh produce, but the weirdest one is corn. Why? Because the rows and rows of corn are perfectly planted, which looks almost alien-like.
While we were in Iowa, we visited my mom's friend and her family. We enjoyed roasting hot dogs and marshmallows over the fire. Here's a super tip, the best s' mores are made with Fudge Stripes cookies as the Graham crackers and chocolate.
Minnesota
Have you ever seen a Zamboni? You know, that thing that fixes the ice rink after people skate on it? Well, guess what? I actually got to ride one of them! How was it? Boring and cold, but it was cool to see the ice go from destroyed to beautiful in seconds!
So . . . How did I get the opportunity to ride the ice fixer? Here's why: We went to Minnesota to visit my dad's old friend, Yuri, and his son works at the ice rink (and plays hockey) and drives the Zamboni! Aren't I lucky?
Yuri's family are some of the nicest people I have ever met. We were strangers one minute and great friends the next. They brought us into their home and let us just sit and talk. Oh and snack on good food.
We went on a couple of wagon rides through their huge orchard and we even got to help them prepare for a wedding. When it was time to leave, each and every one of us did not want to leave. I would go back any day. Thank's Yuri and fam!
Missouri
I think I know why Missouri was named Missouri. It's because it is true misery to be there. So many things went wrong and I think all of us were glad to leave, which was opposite the last state we had been to.
One of the things I remember we did in Missouri was visit Haun's Mill. We learned pretty quickly that you should not drive on a dirt rode when it is raining in Missouri. Yep, we go super stuck in our huge, heavy RV. We were blessed with help to get out of the mess. This trial taught me to be grateful for any help that comes in life. So the next time you receive help from anyone, be sure to thank them twice. Lol
Illinois
Nauvoo is a place were the saints gathered when Joseph Smith was the prophet. It is right next to the Mississippi River so, it is kind of a swampy land. They built a temple, which got burned down, but was recently rebuilt. Nauvoo was also the last place that Emma Smith saw her husband alive, and it was the place where she lived the rest of her life.
One of the other reasons I liked going to Nauvoo, was the book store. I actually bought a book! It's called "Beyond Perfection". I had never read it before, so I hoped that it would not be a waste of $5.00. (haha) It turns out that it was totally worth every cent I spent and more! I'm so glad I decided to buy it! It is a "Pride and Prejudice" retell with a Latter-Day Saint twist to it. It is soo good!
Indiana
The night that we slept over at an old friend's house in Indiana, we all stayed up late playing with our friends, or watching movies. Can you guess which one I did? Anyway, in the morning, I woke up to my mom leaving to go talk to her friend H. She then told me to come out of the RV because a sweet little boy was waiting to play with me. She also bribed me with sausage, so I came out. Lol. It was actually a lot of fun to hang out with our old friends. The kids have gotten soo big!!!
Ohio
In Kirkland Ohio, we visited a temple that the saints built in Joseph Smith's time. It was cool to see the construction of the temple. Another thing we saw was the N.K. Whitney shop and the grist mill that the saints also built. It was nice to get out of the RV, in my cute new shoes, after such a long drive.
New York
"Today we visited Joseph Smith's homes and the Sacred Grove. It was beautiful in the forest. I learned that even a forest can be dedicated unto the Lord. I felt the spirit testify to me the Joseph Smith really did pray in the Sacred Grove and that Joseph really was and still is a prophet of God to this day." (From the travel journal of Ginger Snap)
While visiting New York, we hiked the Hill Cumorah. It was super cool to be in the place where the Book of Mormon was found, 193 years ago. I also liked being in another place where Joseph Smith learned more about Jesus Christ. Even though it was a hike, I'm glad I did it!
Pennsylvania
Pennsylvania is super duper humid and sticky! It was almost unbearable to leave the RV. But I liked seeing where the priesthood was restored and where the first baptisms of this dispensation were preformed. I also liked walking under the road to see one of Joseph and Emma Smith's houses.
Connecticut
I am so glad that my Grandma lives on the East Coast. That thought helped me not go insane as we drove and drove to Connecticut. It was also fun to talk with my grandma, one on one, as we drove to the RV Park where we would be staying. At the RV park, it was great to just sit and have no where to go. We watched a couple movies, ate delicious food (including some take-out lasagna) and we even got to go swimming for a bit.
While we relaxed, I watercolored with some new dry cakes that Grandma gave me. I even learned a new way to paint. It's called Urban painting! It is where you simply sketch something out and paint it under 5 minutes. It's a lot of fun!
New Jersey, Delaware, Maryland, Washington D.C.
To wrap up our trip, we did a driving marathon that took two days. If you want to know more about how bad it was, check out my mom's blog post.
Virginia
     We finally made it to VIRGINIA!! We traveled for 36 days and drove over 8 thousand miles.  I am so proud of my dad.  You know, I never heard him complain once that he had to drive.  I'm also proud of my mom because she made it possible for us to survive the trip.  She always made sure we were feed and had lots to drink, which is very important to me (who is always hungry). But yep, WE MADE IT!!! 
Wow! You made it to the end!! Congrats!
Hope you enjoyed reading!
Sincerely,